This is a time of the natural cycle (Winter in the north), when I withdraw more within like Nature, while continuing to beam love and light in less visible ways, as I'm called to. I've also been in the divinely guided flow of writing book 2 of "Sacred Possibilities". 2016 has been quite a year, to say the least, and it was after all, a year of completion – on so many levels, in so many ways…
Along with countless other departed souls this year, just a few days before the Winter Solstice, one of the sweetest canine souls I've ever known, in the form of a large Akita, received her angel wings while I was with her on our way to Pet ER. Michael and I came to the assistance of our friends call shortly after midnight. As we left around 2am, I noticed my car's odometer show 999 then turn to 000 in the numbers. The next day while I meditated, Cocoa came to me looking SO joyful and full of youthful life again – she let me know she appreciated my presence when she crossed over and was now doing very well.
I often wake up in the morning with a song playing with specific lyrics in my head as a message from Spirit. On the morning of the 20th, I woke up with "Somewhere Over The Rainbow" by IZ playing in my head, and it so made me smile… This was the anniversary day of my dear soul sister Eva's "rebirth" in angel form and this was her favourite song – she was saying hello. I invited her to join me for my volunteer shift at BirdTLC that day, since she loved the bird photos I'd share with her during the last months of her human journey. Then on my way to BirdTLC, I saw a bright rainbow shine above the sun – so beautiful! She has made her presence known in other beautiful ways throughout the year, but this is the most recent.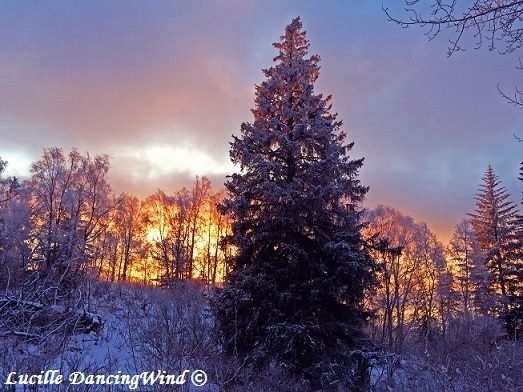 LOVE is eternal and simply changes forms, and I feel very positive and empowered for 2017. By focusing on love, we amplify it. Whether you welcome a new year according to the Gregorian calendar or another cycle/system, I wish for You and All, the following for 2017 & beyond…
* May you experience infinite forms of divine love (all that uplifts your heart and spirit)…
* May your true nature surprise you in boundless magickal ways…
* May your trust in your inner wisdom and knowing, and the divinity of life, continuously strengthen…
* May your own beautiful divinity and this world's never cease to amaze you…
* May your inner child delight you with joyous laughter-inducing experiences and by perceiving countless wonders…
* May beauty and love surround and infuse you every day, reminding you of who you are…
* May your sacred heart guide every step of your unique life's path…
* May the miracle of life never cease to empower and inspire you…
* May you receive incredible invitations and support to live more of who you truly are…
* May you experience strength, courage, wisdom and faith from within you during challenges…
* May you receive more opportunities to connect with mutually supportive soul family in all forms of life…
* May you always know how dearly loved you are beyond words or measure…
* May you receive exactly what's perfect-for-you in divine timing, so you may be and do all that you've come here on Mother Earth to experience…
PHOTO: Winter Sun-illuminated forest along Rainbow Trail, AK.
With Love, Appreciation & Infinite Blessings,