It can be daunting at times as we journey on our paths of life and come face-to-face with experiences that throw us out of our comfort zones!
Sometimes we can see or feel these experiences coming, but they still challenge us in some way, regardless of our foresight.
Other times they unexpectedly slam into us, leaving us wondering how and why we ended up in those situations.
It's not always apparent in the moment, why we're experiencing these storms of life.
We might not understand their purpose until much later.
However, the giants of the forests here in Alaska, are beautiful teachers of the benefits of experiencing these storms.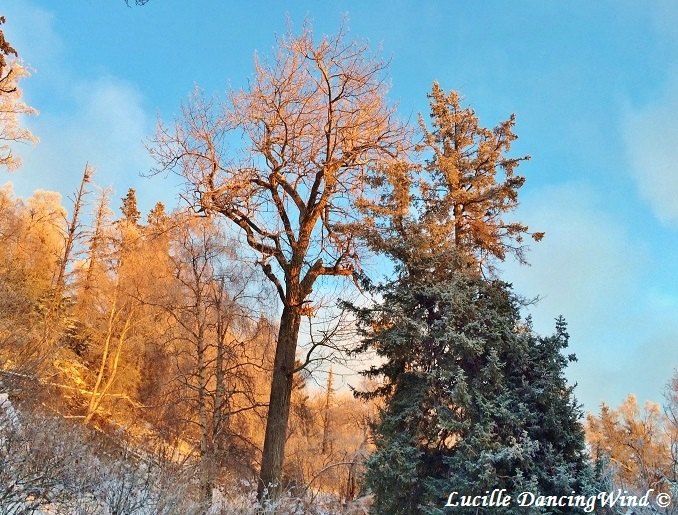 According to several sources, these tree beings can live up to 400 years, grow well over 100 feet tall and reach a diameter of 10 feet or sometimes more.
That's a lot of storms they can experience in their lifetimes and their broken branches attest to their stormy experiences.
Yet they still stand majestically in these forests, towering over other trees.
Join me as I sit with one of these beautiful giants to express their wise teaching that applies to our own lives as humans.
NOTE:  I had to do this video in 2 parts due to a "storm" of hikers that interrupted the flow of recording. 😉
Thank you for watching!
If you enjoyed this video and know others who might benefit from it, do share!
I also welcome your comments!
* UPDATE: In July 2016, a tragic forest fire, caused by careless person(s), swept through the area of McHugh Creek, and sadly, this beautiful beloved giant known to me as "Great Heart" transcended to Spirit. I felt his great spirit and love within me, as I sat in silence with his huge felled body… It's unfortunate that he will no longer be able to greet hikers on Rainbow Trail. His spirit lives on in my heart, in my videos and in his branch that he gifted me early 2015 to co-create my sacred staff (which is even more priceless to me now). I feel very honoured to have known him in his grand physical form…
With great love and wonder-filled spirit,

*