The sacred story of my spirit name "DancingWind"…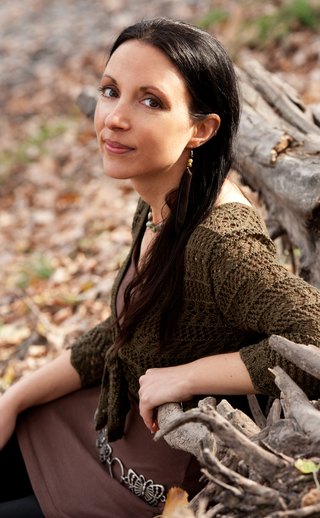 From my heart I share this personal story with you, so you may be inspired by how incredibly miraculous and magnificent our world truly is. It is so much more expansive, multi-dimensional and supportive, than we can even imagine. When we're in alignment with our true nature, we recognize the divinity in every being and experience, and life responds in glorious ways… 
Shortly after leaving everything familiar to me in May 2011, to begin a new life aligned with my true essence, an opportunity to create my own frame drum presented itself. This was a desire I'd had for some time and an unanticipated synchronicity made me feel fully supported and divinely guided on this journey into the absolute unknown. I knew I was walking my sacred path, no matter how radical it seemed.
During Night Eagle's drum-making workshop, she taught our group according to her Native American tradition, as taught to her by her elders. It exceeded what I had desired. She told us that we might receive our own spirit name, so to pay close attention, especially to our dreams. 
We learned wonderful lessons as we created our drums together with a sense of community. By the end of the workshop none of us had received a spirit name, but we left with beautiful drums and new wisdom.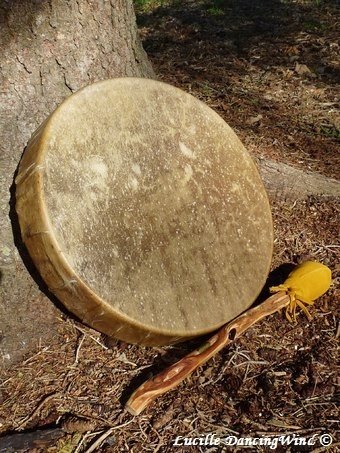 An unexpected gift…
Two weeks later, I spent an overnight with my sister at my parents' country home. On the Sunday morning, they all left early for various reasons, leaving me alone at the house. I had brought my new drum with me to start the day with my usual morning gratitude ritual.
It was a glorious sunny day, so I walked outside to a large, secluded clearing surrounded by trees. Barefoot on the grass with the wind blowing in my hair, I drummed while expressing my deep love and appreciation to All. The weather was so glorious and I just kept drumming for the sheer joy of it.
After some time of doing this, I suddenly received my spirit name, intuitively hearing "dancing wind"! Since it was so unexpected and I loved the name, I desired a confirmation. I asked Spirit for a clear sign to show up that day, to let me know without a doubt that DancingWind was in fact my spirit name.                            
I drove back shortly afterward to my new rural home, almost two hours northwest from my parents' property. The weather was now hot with barely a breeze. I decided to take a walk with my camera to photograph Nature's splendour.
After savouring my surroundings with all my senses for a while, I eventually ended up at a crossroads where two gravel roads lead to all four directions. I stood there wondering why I ended up at this significant location, since it was away from anything apparently interesting to photograph…
All of a sudden, a small dust whirlwind approximately my height, appeared directly in front of me on the gravel road! It twisted around, picking up dust and bits of dried grass and leaves, seeming so playful!
It had been years since I'd seen a mini 'twister'. Moments later, just as it had suddenly appeared out of thin air, it vanished. I realized with clarity that I had just received my sign from Spirit, confirming that my spirit name was indeed DancingWind! I smiled wide in my heart… what a special gift to have received!
I was shown once again just how supported we are on our journeys, especially when we have the courage to follow our own hearts and walk our own paths.

Life, seen and unseen, is always fully aware of us, beyond what can be explained or measured. When we open our hearts, fully present to experience and receive, it responds. It's so sacred.
In Autumn of 2012, I honoured my spirit name DancingWind with a legal name change.
If you enjoyed this story and would love to read many more real-life stories that combine the mystical and miraculous with the practical and mundane, you'll enjoy Sacred Possibilities as so many others have (as you'll see from readers' reviews!). I've also included countless insights and wisdom from Spirit, Nature and personal experience, alongside my stories. 
Life never ceases to amaze me!