e-Newsletters ARCHIVE
I've been publishing my email newsletters since December 10, 2011's Full Lunar Eclipse. That's a LOT of writing, photos, quotes, insights, stories, etc., that I've shared since then!
I received an insight to create this archive, to make older publications accessible as another source of empowerment and inspiration for you.
I've used 3 different services since 2011, to create and publish my e-newsletters (improving on delivery systems as I've evolved). Due to this, the only ones still accessible for viewing online, begin on July 15, 2015's New Moon (when I also launched this new website).
You can access all available e-newsletters, by clicking on each title below.
Newly published ones are added at the top of the list.
To acknowledge and celebrate my dedication to the Sacred Earth Connection® circle all these years, I've included a snapshot of part of my first published e-newsletter. I love seeing how they've continuously evolved throughout the years, as I have.  
May your own journey evolve with continued empowerment and inspiration!…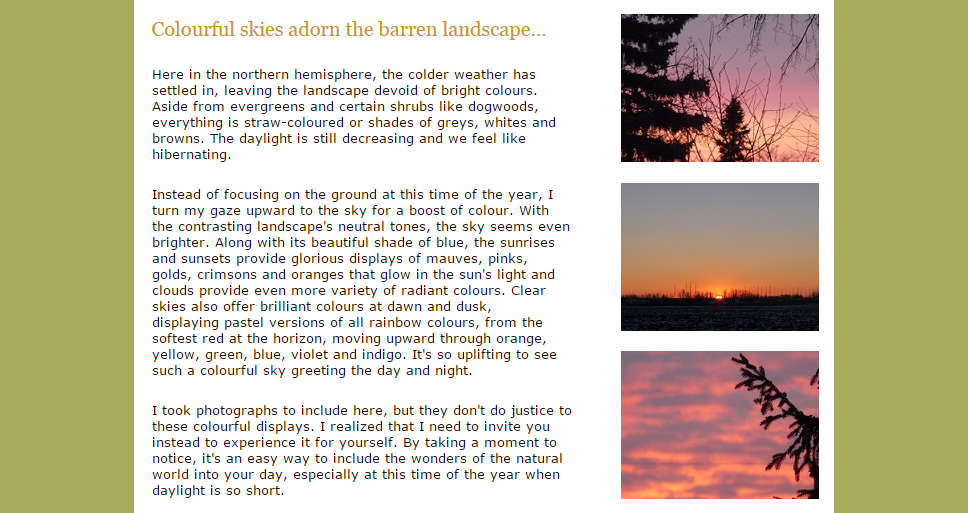 You can also join the Sacred Earth Connection® circle!
Click on the bright green "Empowering Gifts" bar at the top of this page.
e-Newsletters:

 Transformational Full Moon!: spotlight on patterns + aligned music!…

 From "ordinary" to "extraordinary": the power of guided timing…
May 2017

 New Moon! with a powerful mantra to start your day!…

 Earth Day: lifestyle & celebration list! + over 20,000 trees planted so far!


 Full Moon spotlight: Provoked? TRUST your higher guidance!… + New video! :)…

 The power of harmonious energy! + "Earth Day" tree special :)!…
April 2017

 New Moon! + Receiving supportive wisdom (& a ritual in writing ;))…

 Sacred Equinox portals & powerful well-being ritual taught by Nature…

 Empowering Full Moon! + Keeping energies CLEAR in spaces & body (vital!)…

 Nature's insightful surprises + wisdom from Spider, Appreciation & Luna!…
March 2017

 Mystical *New Moon Eclipse* & Messages to support you!…

 Wisdom from Storm, your Sacred Heart & "transcendent" music!…

 Full Moon (Eclipse!) + Reflections of Your greatness…

 11 simple but greatly UPlifting things (+ 1 UPlifting dream ;))!…
February 2017

 New Moon! + "Losing" something can be exactly what you need! ;)…

 11 Ways to Not take *Nature* for granted (+ a video!)…

 Full Moon! + Gentlemen, you're NOT less intuitive than women!…

 Always remember this, on your unique path of life…
January 2017
* 2017 *

 New Moon insights & my New Year *heart wishes* for You! :)…

 *Sacred Solstices* + a surprise manifestation story (& video)!…
* Note: What I refer to as "book 2″ in this e-newsletter is the sequel to "Sacred Possibilities".

 Full "SuperMoon"! + beauty of (north) winters & our spirits (with video!)…

 Thank You! & unique Gift ideas for Mind/Body/Spirit & beyond! :)…
December 2016

 New Moon: honouring, protecting and co-creating the Sacred together!…

 Messages from 3 sources beyond the physical plane to guide you…

 Biggest Full "Supermoon"! with powerful reminders about *chaos*…

 Being proven "wrong" can be a blessing! + frosty Nature beauties :)…
November 2016

 Powerful New "Blue" Moon & Samhain/Halloween revelations (about you!)…

 Life is magnificent! – a boost of meaningfulness for you…
* Note: The year 2014 should be 2004 – a typo I didn't catch when I proof-read before publishing.
(One of the many reasons I invest in a professional editor for my books!). ;))

 Super Moon! + "hits" are time-sensitive (no hem&haw-ing) + new video! :)…

 Contorted tree wisdom (new video!) + which one resonates most with you?…
October 2016

 "Blue Moon" New Moon* + Spider beauty & wisdom (with a video)…
* Note: While many call a 2nd New Moon in the same month a "Black Moon", I personally call them a
"Blue Moon" just like with a 2nd Full Moon in the same month, for they occur "once in a blue moon". ;))

 Equinox blessings, rituals & supportive significance on life's journey…

 Full Moon eclipse + inner work revealed in stones + 2 new videos!…

 Celebrating significant little-big acts of love (owlets involved!) :)…

 A powerful New Moon Solar Eclipse + empowering something(s) you can do… 
September 2016

 Overwhelm: A/wareness to Z/en with a gift for you! :)…

 Full Moon invitation: Allow the divinity of life to deeply move you…

 We're co-creating soulful life legacies together…

 My most jaw-dropping lesson about perspective dictating our life experience!…
August 2016

 Your mind KNOWS it's left… but your heart nudges you to go right…

 Full Moon spotlight: Life can be like the creation of a painting…

 The amazing magnitude of "inklings"… + refreshing treats :)…

 Your personal team "patiently" waits to support you! :)…
July 2016

 Landscapes are so MUCH more than you might think!…

 Full Moon Solstices!!! & new video featuring… YOU! :)…

 "Crazy" duality! : a head-on persecution & magickal encounters…

 (Potent!) New Moon/news & Are you aware of life's awareness of you?…
June 2016

 Mishaps are "true nature" opportunities…

 Full Moon spotlight: how to live the reality you KNOW exists + new video!…

 The innocent reflect your truth + "new blossomings" Part 2!…

 Earthing New Moon ~ new blossomings & a Super Moon!…
May 2016

 Trust yourself and recognize fear trolls for who they are!…

Full Moon spotlight on sacred relationship & Earth Day! :)…

 Celebrating global LoveLight: one of these might resonate with you :)…  

 "Supermoon" New Moon! & heartful insights… 
April 2016

 What magickal purpose a "delay" might have in your life?!… 

 Full Moon *lunar eclipse* & celebrating one year!… 

 Potent Equinoxes & powerful well-being ritual (with new video!)… 

 Ecliptic Super New Moon & intense month energy!…

 Nature messages & divine guidance – oh my! + new video!… 
March 2016

 Full Moon spotlight on… someone who wants to meet you! :)… 

 This fascinating "phenomenon" is such an empowering tool!… 

 New Moon newness: a slight beneficial change… 
February 2016

 Earthquake & Eagle… what does your attitude say about you?… 

 Full Moon spotlight on something ancient & something new!…

 I believe in * you * ~ invitation… 

 The (bonus) benefits of the Spirit realm here on Earth… 

 My heart wishes for you this year!… 
January 2016
* 2016 *

 Celebrating *L*I*G*H*T* ~ sacred Solstices & Full Moon… 

 Divine timing is everything!… & Happy HolyDays! :)… 

 Mystical New Moon: A force that can't be destroyed… 

 A gentle reminder… ok,… a few ;)… 
December 2015

 Full Moon mind, body & spirit empowerment! (+ time sensitive gifts!)… 

 "Kisses" from Heaven + Snowflake teachings (new Nature video)… 

 11/11 New Moon invitation inspired by 3 different celebrations of life…

 Do you know greatness in its true form?…
November 2015

 Beauty shows up in unexpected & powerful ways + new video :)… 

Absence increases this even more! + Nature hike video :)… 

 New Moon blessings + new Nature video + healing circle update…



 Nature & Spirit's infinite gifts + 3 days left to enroll!… 

 Experience is golden (+ one week left!)… 
October 2015

Today's rare phenomenon & my new program share this in common…

 Equinox special: revealing my new program and very special story! :)!…

 The significance of the Equinoxes on life's journey…  

 A sneak peak for you! + the divinity (and gremlins) of life… 

 Do you know how your Spirit Guide allies empower your life?… 
September 2015

 Full Moon inspiration (dance of creation) + more newness :)… 

 Do you feel it? + Wind exemplifies living your truth (video)…  

 New Moon invitations + new Sage article… 

 The blue moon's downpour of surprise gifts + Butterfly teaching (video)… 
August 2015

 Full "Blue" Moon inspiration & announcement! :)… 

 The power of your unique flight style + owl teaching (video)…

 New Moon *new*sletter + Squirrel and Rainbow empowerment…
July 2015
* 2015 *

* Previous publications are no longer accessible to view online, due to
being from different e-newsletter service providers.