Journey into the world of
Mending Mother Earth with Native Plants!
*  B O O K   R E V I E W S  * :  S c r o l l   d o w n   t h i s   p a g e  . . .
(Find out how this wonder-filled and inspiring book has impacted readers' lives!)
Discover how it can uplift and inspire your own life, for only $9.99
(NOTE: This is for a PDF download. For a hard cover format & PREVIEW, click on the BOOK image)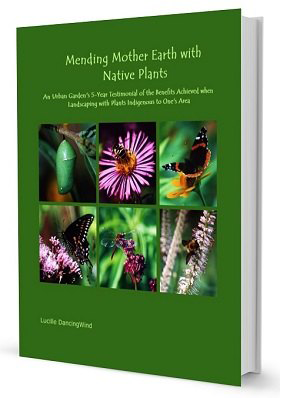 Imagine a living environment that is healthy for us and also benefits our natural world. It promotes well-being, meets the needs of our wildlife, protects biodiversity and empowers us as stewards of our planet… This place can be your own yard. Regardless of where you live, this book shows what anyone's desire to improve their environment can achieve. It has the potential to change our world for the better.
It started out as a landscaping project, fuelled by a deep love for Nature… and took on a life of its own! I became a humble student of the Divine's masterpiece, learning with awe (in the city!) about the intricate interconnectedness of all life. So much was revealed to me within a short period of time, through the intimate experience of the natural world (thankfully I started documenting everything from day one, in 2003).
One night, three years after the first seedling was planted in the garden, an Elemental spirit guide, Fahlia, inspired me to create this book as a means of sharing all that was being discovered. Five years of observation and documentation, through loads of journals' notes, countless photographs and drawings, transformed into this book. After a total of seven years, "Mending Mother Earth with Native Plants" manifested in 2010.
Be inspired by every page of this enchanting journey through 264 colour photographs (including a gallery of favourite photos), over 40 drawings and the unfolding story of a divinely evolving oasis and significant teacher.

Let yourself be guided by this tiny blue butterfly drawing throughout the pages, as it celebrates every time a new species of wildlife visits the garden and teaches about the intimate connections in our world. Every being has a divine purpose!
This book clearly shows how one simple choice can have enormous ripple effects, far beyond what you can imagine, benefiting not only you on multiple levels, but also communities and our planet.
For every book sold, I donate 25% to the Nature Conservancy, chosen for the wonderful work they do to preserve our natural environments and biodiversity, in partnership with private land owners, volunteer and educational programs.
What readers say about Mending Mother Earth with Native Plants…
(first edition published March 15, 2010, New Moon)
"Dear Lucille, Thank you so much for the beautiful book. Your efforts, your attitude and the book are exactly what the world needs in this increasingly cyber age. All the best."

~ Robert Bateman, award-winning artist and naturalist
"Lucille, Thanks for all you do on behalf of Mother Earth."

~ Dr. David Suzuki, award-winning scientist, environmentalist and broadcaster
"Dear Lucille, Congratulations on the publication of your beautiful book. Mending Mother Earth with Native Plants is a delight. It brings one deeply into the healing power of nature as one feels the breeze, senses the temperature and watches the clouds and insects, birds and butterflies. Your photographs are amazing. I loved your sketches. [Your poem] Weaving Dance of the Seasons is gorgeous! More! More!" 

~ F.Weiss
"I can't believe the beautiful writing skills, drawings, photography and how much time you spent in your garden and what you have witnessed. The book can help so many and gives so much insight. You just seem to have a way with nature. You are so gifted!! Reading it was such a joy."

~ Michelle M.
"Such a pleasure to read! One cannot read this book and not feel uplifted and filled with awe for the wonders to be found in nature. The beautiful pictures and drawings from the author herself make it a truly beautiful book to give as a gift. We enjoyed it from cover to cover!"

~ Victor & Gisele
"Holding your book in my hands and reading your loving words that describe the beauty of nature around us, awakens bubbles of joy in me! It makes my heart open up wide, like the butterflies on your pictures open their colourful wings to fly free… Thank you for sharing your shining light and for assisting Mother Earth by inspiring people to see through eyes of love."

~ Eva Annaluna, Hawaii, USA
"What you have achieved in a short period is an astounding revival for a small scale ecosystem in the midst of a large urban centre. The process laid out in the book is such a pragmatic means to a healthy, natural environment; establish a gorgeous mix of multi-season, low-maintenance flora and get ready to discover a stunning array of fauna attracted to your efforts! Brilliant!"

~ Mitch, New Brunswick, Canada
"What a beautiful tribute to the task of turning a barren yard into a living, breathing, vibrant piece of land in such a short time span. Very inspirational!"

~ A. Marsh, Illinois, USA
"I absolutely LOVE this book!! It's a wonderful read and a great guide for anyone who's interested in helping our beautiful planet, or who is simply a nature lover at heart. The photographs in this book are beautiful, as are all the drawings. I'm amazed at how many different species one can attract, by only making a few changes within one's region. I've recommended this book to many!"

~ J. V. Watson
"Lucille has created from her own back yard and transformed it into a beautiful garden from scratch, creating a wilderness of beauty and magic, bringing back native plants and insects, full of life, vibrancy and colour. Lucille is a blessing to Mother Earth, her book details each day the weather and visitors to her garden. The photos are all her own work. Highly recommended!"

~ Andrena Forrest, Australia
"I found this beautiful book full of positive energy, beautiful pictures, and ideas to help with your own garden! Beautiful!"

~ Lucie L.
"The book itself is a work of art, well written with passion and detail. Aside from dealing with a contemporary subject, it is loaded with colourful pictures and art by the author herself. They are vivid and inspiring."

~ Rolande
"This inspirational book not only shows you how simple it is to surround yourself with nature, but also the beautiful wildlife it attracts."

~ Rosie Bees