I was inspired to focus on this, for even the most conscious, aware, loving and appreciative person can take things for granted, without even knowing it! I became acutely aware of this when I lived in Costa Rica for 3 months in 2002, as a sea turtle restoration project volunteer intern!
I was there during the sea turtle nesting season, which also meant the rainy season. I've always loved hot and humid weather, however… I'd never lived where it was permanently 100% humidity all the time, with no electricity and all the houses were "open air" (very much part of the elements).
I quickly realized, despite having lived a greatly appreciative life, that I still took some things for granted, like: dry, clean-smelling bedding (it always felt damp with a musty smell, even when it was regularly washed and "baked" in the sun during the day); a hot shower (the freezing-cold water came directly from the mountain through a pipe into the shower-head); and access to instant worldwide communication (I had to ride a bicycle for 40 minutes to the nearest surfing town where there was 1 computer and phone available for use, to communicate with the rest of the world).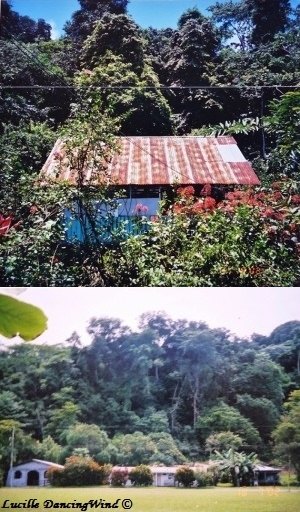 With more and more people becoming isolated from the natural elements through technology (insulated homes, enclosed transportation, urban lifestyles, etc.) and busy schedules of continuous demands for time and resources, spending very little time within Nature is increasingly common, and taking it for granted is just as easy as those things I realized I was taking for granted after my time in Costa Rica (which I never took for granted again!).
It's only through awareness that we can then fully, consciously appreciate all gifts, and continuously deepen that loving appreciation. I made a list of 11 ways to not take Nature for granted (feel free to share it with proper credit):
1   ~ Open/expand your sense of childlike wonder.
2   ~ Thank Nature for all that she provides for you (in doing so, you thank the Divine too!).
3   ~ See the miracle in every aspect of Nature.
4   ~ Savour what uplifts you (ex. bird songs).
5   ~ Take the time to observe who you co-exist with (individuals like trees, animals, flowers, etc.).
6   ~ Know that your well-being depends on Nature's.
7   ~ Experience Nature as if for the first/last time.
8   ~ Recognize that everything changes day-to-day (every day is a unique gift!).
9   ~ Notice the gifts of sunrise, sunset and between.
10 ~ Create a love & appreciation ritual/prayer.
11 ~ Give little offerings of love and appreciation that you carry with you (ex. little flowers or foods from your garden; love-infused water; biodegradable mini bundles of ceremonial herbs like sage, sweetgrass, tobacco, cedar: like the ones I create myself for my hikes, travels, ceremonies and people I work with, as shown in the photo below – their little "heads" are the size of big raspberries).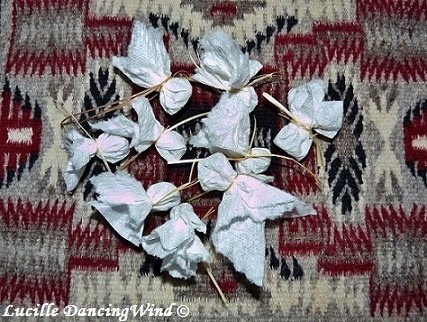 There's always greater depths of appreciation (and love!) that we can experience. May this list inspire you and expand your relationship and deepen your connection with Nature! 
With great love & wonder-filled spirit,

*